For cheap marquees, try elsewhere — if you want quality & longevity, we'd love to talk.
Download Product Catalogue
Click to download our Instant Marquees Catalogue.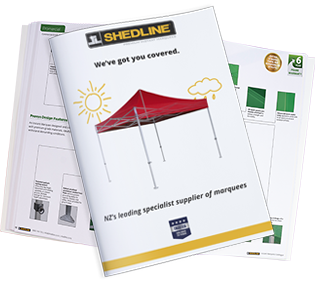 One of our team will be in touch with you to discuss your project and provide you with pricing — no obligation!
Shedline Instant Marquees — up & down in 60 seconds
Shedline Instant Marquees NZ are built tough, easy to use and can be deployed quickly, in almost any location and on almost any surface. Being essentially free-standing, Instant Marquees do not rely on guy ropes to stand erect and each leg is height adjustable with a solid base plate at the base which thus allows an Instant Marquee to be erected almost any place, anywhere.
TIP: Branded gazebos and custom printed marquees are a clever promotional tool, providing an effective eye-catching pop up whenever they may be deployed. Using a branded marquee or tent at NZ outdoor events means your brand and the promotional message is exposed to all those in the vicinity.
Find your Perfect Marquee With the Selector
Custom Marquee for Events
Whether you need a custom printed marquee, single promotional event marquee or multiple shade shelters (portable and branded), Shedline's expert industry knowledge enables us to offer event marquees for sale in NZ that are unsurpassed.
Our designers will work with your existing artwork or create free artwork designs for you. We are able to deliver branded marquees and gazebo within exceptional time frames.
From Concept to Completion
4 reasons to invest in a custom printed marquee, branded tent or branded gazebo:
🡲 The provide shade and shelter from the elements and brand exposure
🡲 Outdoor events are usually awash with plain gazebos and marquees. Your branded tent or pop up gazebo will make you stand out from the crowd and give you the advantage of an easily identifiable stand
🡲 You can sink endless money into marquee hire and gazebo hire when you can purchase your own which will quickly pay off in the long run – and give you an additional promotional tool
🡲 Shedline marquees and gazebos are so easy to transport and quick to erect means you can locate your custom marquee or gazebo almost anywhere around New Zealand for immediate promotional or advertising exposure.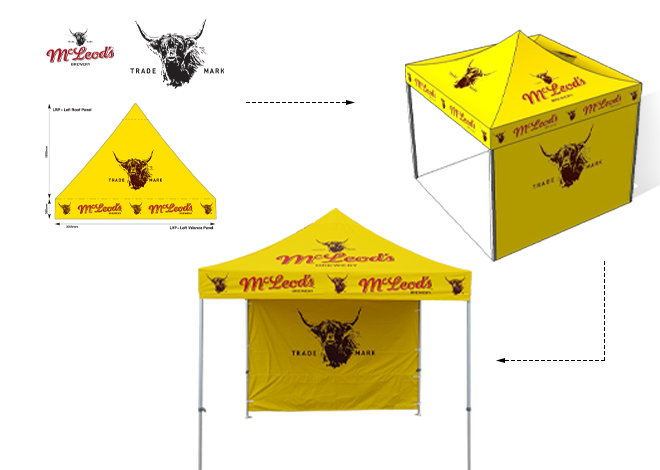 Shedline — Protecting Kiwis for over 25 years.
If you'd like to find out how we do it get in touch with our shade specialists. We're and ready to help.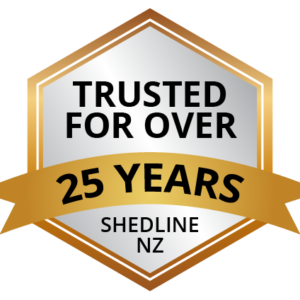 TESTIMONIALS
We were concerned about the need for a strong marquee to use at the national field days. Having purchased the Promercial we were amazed at its quality standing up to the windy storm experienced on the first day, it performed perfectly.
Just letting you know the marquee arrived safely on 18th June. Printed wall looks awesome !! Thanks for your great assistance in getting this all together & delivered. Much appreciated.
We love our little gazebo, because it's light, it fits in our vehicles, it's strong, plus it makes our Tautoro School teams look like they belong to Tautoro School. Thanks for your great service.