Instant Marquees Guide
All you need to know

What is a Marquee?
A marquee is a a large tent used for social or commercial functions. An 'instant' marquee is a portable shade structure made from aluminium construction that allows for rapid deployment. Designed with a concertina square or rectangle shape, these marquees are a popular solution the world over. Also referred to as pop-up marquees and pop up gazebos, they are available in a range of sizes and build qualities.
Shedline Instant Marquees require no assembly. When you get your marquee, all you need to do is take it out of the box. You'll need to affix the provided roof and then you can pop-up your marquee in under a minute.
What's in this guide:
Purchasing a gazebo is a great decision for businesses, organisations and groups in New Zealand and we've compiled this guide to give you the best information to help you make a decision on what you need. When you're ready, get in touch with us to get started on your instant marquee journey with Shedline.
Table of Contents
How are Instant Marquees used?
Why should you invest in an Instant Marquee?
Who uses Instant Marquees?
How do you choose the right Instant Marquee for the job?
How does Custom Branding work?
What lead times can I expect?
1. How are Instant Marquees used?
Instant marquees are a popular shade and shelter product, engineered to look after people. Our range features a canopy with UV protection and waterproofing to counteract New Zealand's fluctuating weather.
Our pop-up marquee tents are the perfect protection product. Quick, easy and effective to put up and pack down. Our customers track all over our beautiful country with our tents.
2. Why should you invest in an Instant Marquee?
A marquee is a great tool for a variety of groups. They're built to stand up to New Zealand's conditions – perfect for a summer day or a wet afternoon at the football. Premium shade and shelter combined into one product. Businesses and marketing experts should invest in a marquee with custom branding to grow their brand.
When you invest in a pop-up from Shedline, you're investing in the quality of build, materials and service. If you want a marquee that will last, with comprehensive warranties up to 8 years, you've come to the right place.
We don't have cheap marquees; You'll have to go elsewhere for that.
3. Who uses Instant Marquees?
Who else can use gazebos? We've been providing shade to New Zealand for over 25 years and are proud of the breadth and depth of organisations who have chosen to work with Shedline to protect them.
Sports Clubs
Sponsors
Real Estate Agents
Home Builders
Schools
Stationery Stores
Non-profits
Community Groups
Councils
Government Agencies
Primary Industries
Video Production Companies

Banks
Manufacturers
Airlines
Craft Breweries
The Cancer Society
Marae & Iwi Groups
Beverage Companies
Supermarkets
Motorsport Teams
Clothing Companies
Surf Schools
Car Manufacturing and Sales
Real Estate Agents
Nothing is better for growing your personal real estate brand that…personal branding and it's easy to grab a marquee and with custom branding, put all your contact details on it. You'll then be able to lend the marquee out, free of charge, to community and groups and schools who need some added protection for sports events or fundraising. This means you can have your brand working for you when you can't be there yourself.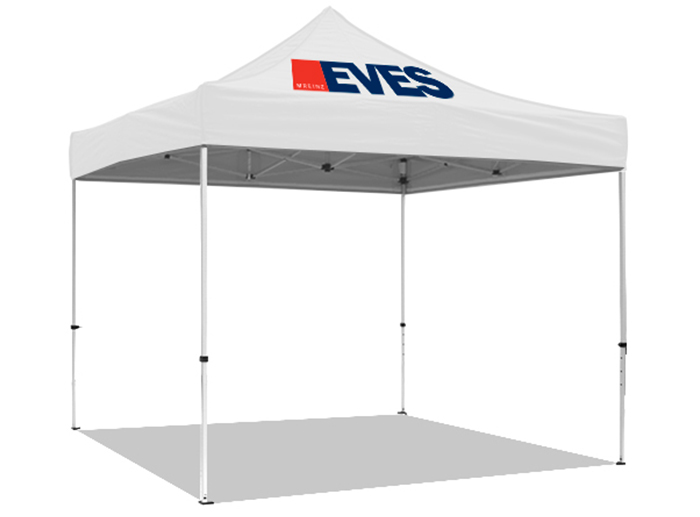 Craft Breweries
Craft breweries are always looking for ways to stretch their brand and stand out at festivals, tradeshows and field days. Grab a marquee with a front half-panel and serve your brews from a branded gazebo. We know that clever marketers are looking for ways to grow their brands and half the battle is getting the right kind of advertising and marketing out in front of your target market.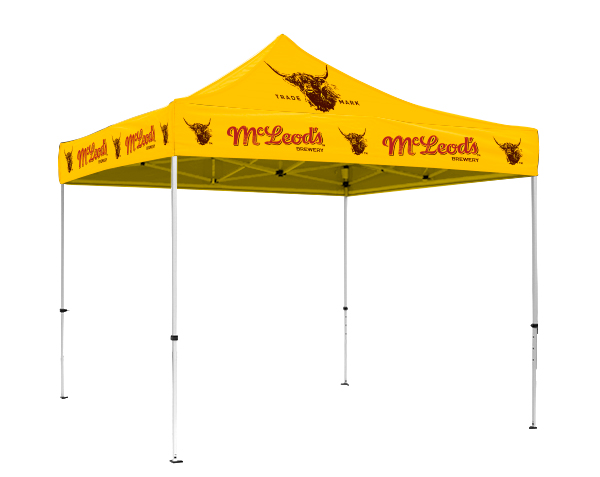 Motorsport
The motorsport industry demands the best. High tech, strong and clever innovations are driven by the industry and Shedline Instant Marquees are no exception. Our marquees pop-up in rally service pits as they move around the country because they're designed to put up and take down in an instant all whilst taking the stresses of the industry. Motorsport teams can also attract new sponsors to their team by offering premium space on their service marquee that will be looking after their vehicles in the pits.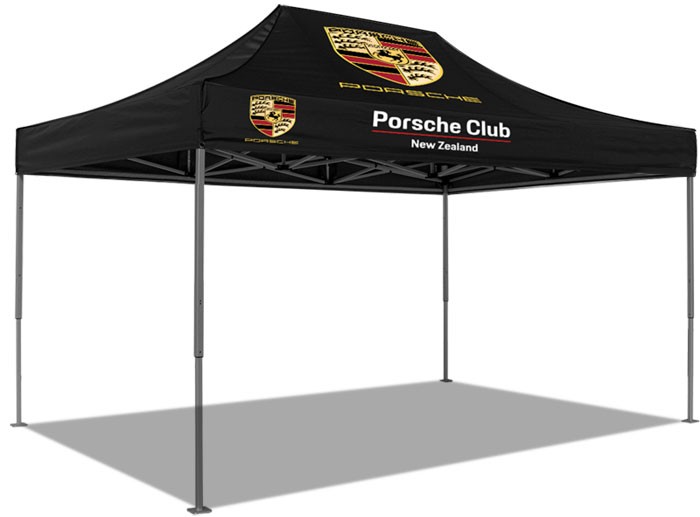 Schools, Education & Organisations
Schools get great benefits from premium outdoor marquees. Some of our favourite projects are custom branded house colour marquees for schools. This gives a quick, easy-up way to create meeting points at intra-school events and sports days. All whilst looking after the health of our future.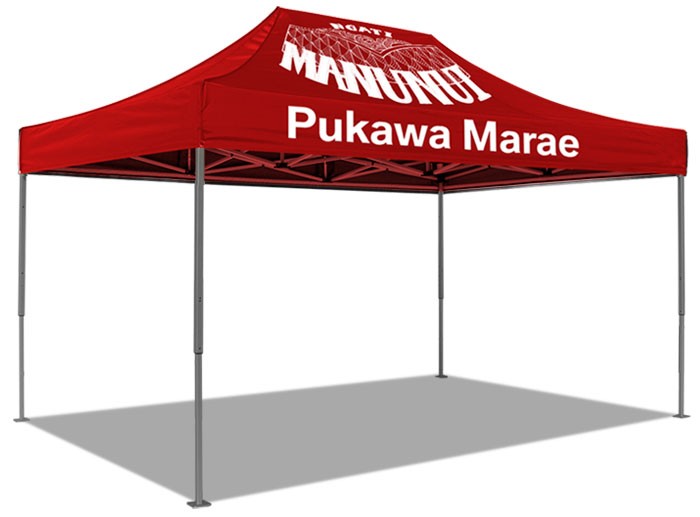 4. How do you choose the right Instant Marquee for the job?
There are a few key things you need to consider when you're looking to purchase an instant marquee. If you're here, you're already looking for a quality, well-built marquee that will last. You'll have no interest in disposable hardware-store models that are considerably cheaper in price and build quality.
Once you know you want quality and value, you can start to look at the size of the marquee you require.
Each size serves a different purpose and our shade specialists can help you find the right marquee for your needs.
Shedline Marquee Sizes
Rectangular Marquees
4.5m x 3.0m
3.0m x 6.0m
4.0m x 8.0m

Square Marquees
Perfect for markets and stalls. Early morning farmers markets are perfect for square marquees as they tend to be based one pre-marked out carparks. They also fit into narrow spaces on the side of sports fields and are also great as a lightweight option for fundraising shelter.
Rectangle Marquees
Rectangles are better to fit more people and gear under. Great for cricket teams with lots of gear or for schools and events when you have a pantheon of people to protect. They're also great for motorsport use as you can fit more under the shade.
Need walls?
Next, you need to determine your need for sidewalls. Yes, we do walls with your marquee. Shedline has a variety of options that can all be custom branded. They're a great addition to offer another surface for additional branding while providing extra protection from the sides. There are 4 sidewall style options available:
Full Wall
Half Wall
Window Wall
Door Wall
Each of these options serves a different purpose and depending on your use case, can be mixed and matched to suit. You can use half walls to create a branded stall, doors to create a portable room, great for first aid and medical tents and windowed walls can add a bit of light and visibility when needed.

SHEDLINE ARE CUSTOM BRANDING EXPERTS
How does Custom Branding work?
We are very passionate about custom branding at Shadowspec. The team takes great pride when a swarm of marquees pop up at events around New Zealand and we see our customer's strong marquees adorned in branding standing up. Our internal design team are experts in custom branding.
We offer free mock-ups and design work to get your marquee looking great.
The most common branding we assist with is the printing of customers logos on the roof of their marquee. This gives great brand exposure and a recognisable exclamation point for your organisation. You can request the printing of your logo one, two 3 or all 4 panels of the marquee, or even mix and match if you've got different brand assets you'd like to include on your marquee.
A common partner of the roof logo is valance branding. This block of fabric that runs around the edge of your marquee provides a nice long, flat surface, perfect  for company names, phone numbers or websites. Any combination of these around the edge is also acceptable.
Once you've locked down your design with our production team and you provide all the relevant assets including vector files of your logos we can provide a finalised proof and even a 3D fly-through of your design for approval.
When it comes to the design you can either request a standard colour from our range to have your logos printed on to or go for a full printed design on the panels. This digital print option is great for graphic designers to show their flair with a full gamut of colours available, photos can be used and patterns can be incorporated into your layout. This is the best way to get the most out of your branding investment. Don't forget about the walls either!
What lead times can I expect?
We're experts in short lead times. We can turn around branded marquees and standard marquees within 4 weeks of sign off. If you're getting a digital or screen printed roof we can even send the frame out with a loan roof so you can get your marquee popped up and ready to go.
The Shedline Commitment
This is all part of our Shedline Commitment to customer success and protection. If you'd like more information, a proposal or some advice on what marquee is perfect for you please download the catalogue and get in touch with us.
Download Product Catalogue
Click to download our Instant Marquees Catalogue.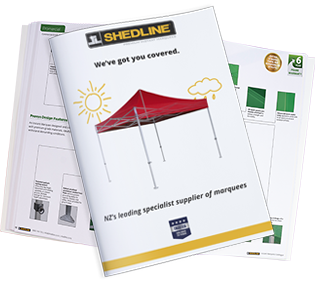 One of our team will be in touch with you to discuss your project and provide you with pricing — no obligation!