MEDICAL MARQUEE – DESPATCHED THE SAME DAY THEY ARE ORDERED
We supply marquees for Pop Up Vaccination & Testing, Isolation and Emergency Shelter.
At Shedline we've made our range of strong marquees available to any essential service that needs them.  Using medical response tents to separate patients, support workers and support people are essential to containment of viruses and to vaccinate against Covid-19.
Our marquees go up & down in 60 seconds. Tools are not needed to deployed the pop-up medical tents.

FREE DELIVERY & TRADE PRICING within New Zealand for medical tents.
Call us on 0800 144 155 to discuss your requirements. 
GET YOUR SHEDLINE BROCHURE
Testing & Vaccination Marquees
We can send medical tents out the same day they're ordered. It's important to have isolation—the marquees can be used as a portable tent to treat and isolate patients. 
If you require a medical tent, portable emergency shelter or triage tent then get in touch with us, our team of shade specialists is working remotely and is ready to assist.
Our pop up instant tents have a finger-safe operation, can be set up in less than 60 seconds, require no tools, and are the strongest in New Zealand. We have 25+ years of experience in supplying marquees and shelters.
Medical Marquee Package:
• 1 x Unbranded Roof
• 4 x Standard (unbranded) Walls for a fully enclosed tent
• 1 x Concertina Folding Frame
• 1 x Wheeled Frame Carry Bag
• 1 x Roof Carry Bag
• Guy Straps & Ground Pegs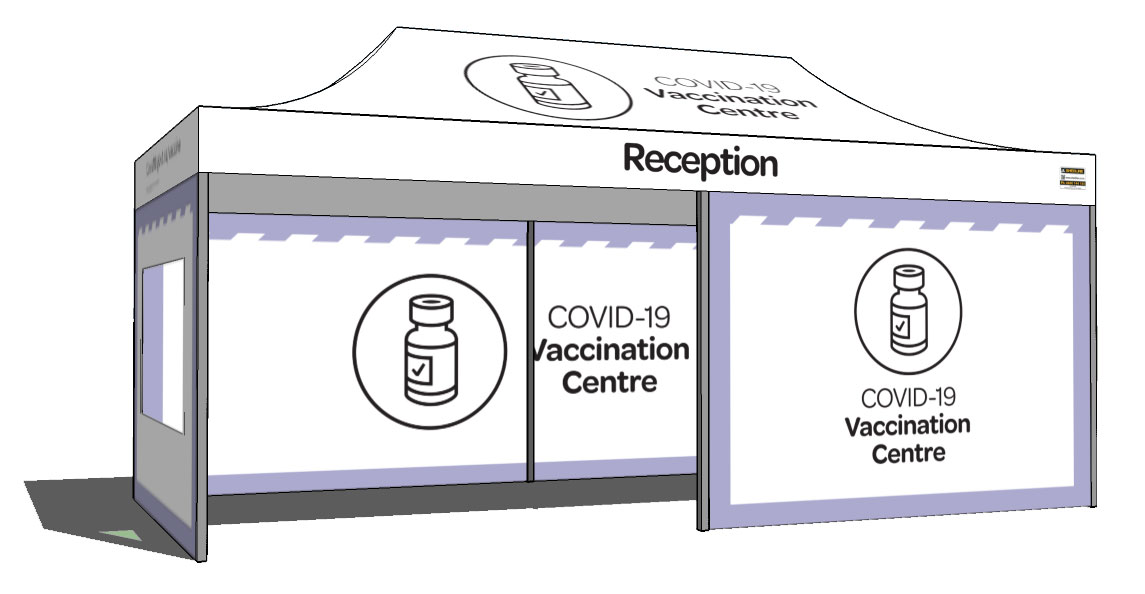 Key Features
• Simple folding frame can be deployed by one person – clever finger-safe operation
• Engineered to meet New Zealand standards – produced according to the strictest criteria for quality
• We use commercial fabrics that are fire retardant, have 100% UV protection and are waterproof
• Our frames are made from high-grade commercial aluminium that is corrosion resistant
• Twin rib reinforced struts provide enhanced strength for the marquee

TESTIMONIALS
We were concerned about the need for a strong marquee to use at the national field days. Having purchased the Promercial we were amazed at its quality standing up to the windy storm experienced on the first day, it performed perfectly.
Just letting you know the marquee arrived safely on 18th June. Printed wall looks awesome !! Thanks for your great assistance in getting this all together & delivered. Much appreciated.
We love our little gazebo, because it's light, it fits in our vehicles, it's strong, plus it makes our Tautoro School teams look like they belong to Tautoro School. Thanks for your great service.
Get more information about Medical Tents