SHEDLINE INSTANT MARQUEES
Shedline supply New Zealand's strongest Instant Marquees — reinforced frames & extensive warranties.
🡲 We have a team of shade consultants and designers here to help you with choosing the right marquee through to custom printed designs.
🡲 Our instant marquees have been distributed throughout Australasia for 25+ years. From home-use through to industrial applications.
🡲 Simple and quick to set up – up & down in 60 seconds, they are compact to store and transport. The simple folding frame can be deployed by one person.
🡲 Engineered to meet New Zealand standards, our instant marquees are produced according to the strictest criteria for quality.
🡲 We use commercial fabrics for our canopies that are fire retardant, have 100% UV protection and waterproof.
🡲 Our frames are made from high-grade commercial aluminium that is corrosion resistant. Twin rib reinforced struts provide enhanced strength.
Download Product Catalogue
Click to download our Instant Marquees and Instant Pole Marquees catalogues.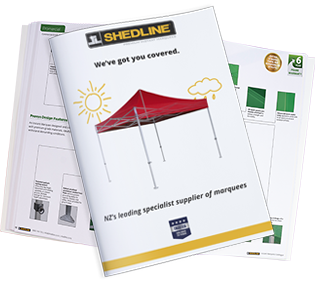 One of our team will be in touch with you to discuss your project and provide you with pricing — no obligation!
Freestanding Instant Marquees
Instant Marquees can be rapidly deployed in almost any location and on almost any surface. Being essentially free-standing, Instant Marquees do not rely on guy ropes to stand erect and each leg is height adjustable with a solid base plate at the base which thus allows an Instant Marquee to be erected almost any place, anywhere.
The Shedline Advantage
From promotional tents and branded marquees to camping shelters and branded pop up tents. Shedline is the leading specialist manufacturer and supplier of all types of marquees NZ wide. Shedline Marquees offer many advantages:
🡲 Customer assurance and satisfaction is our no.1 priority
🡲 Custom branding and graphics are our specialties
🡲 Delivery NZ-wide
🡲 Extensive product warranties