The Promercial is a popular choice for fairs and trade exhibitions
The Fairlie Show in Timaru awarded first prize for Best Promotion Site to MacKenzie Kindergarten, whose 3×4.5m marquee, complete with 3 sidewalls, became a small classroom, the walls adorned with drawings and paintings.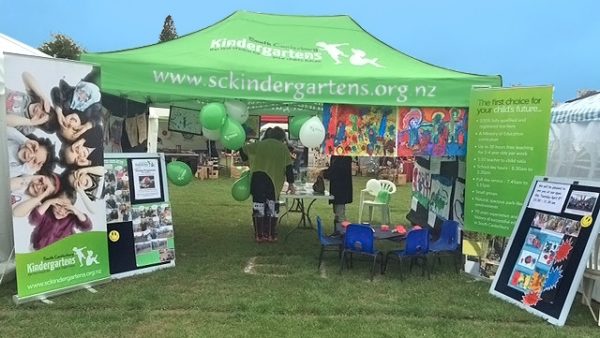 MacKenzie Kindergarten, part of the South Canterbury Free Kindergarten Association, purchased a branded Instant Marquee to use at fairs.
The Promercial is a popular choice for fairs and trade exhibitions, as they are extremely tough yet lightweight. They are available in three sizes, 3.0 x 3.0m, 3.0 x 4.5m and 3.0 x 6.0m. The Promercial boasts a top quality, internally reinforced commercial grade frame and in this case, was an ideal shelter solution for the kindergarten.
MacKenzie Kindergarten really showed us once again how an instant marquee can be used in so many ways. As Hazel said, 'the marquee looks fabulous'.
MacKenzie Kindergarten chose to add three sidewalls to their order, adding extra protection from sun, wind and rain, and also in this case, providing a great place to showcase their students artwork.
Custom Branding is available on the roof and sidewalls of a marquee, and instantly transforms your marquee into a highly effective advertising tool, and ensures you will stand out from the crowd
Contact us today on 0800 144 155 or info@shedline.co.nz for your chance of impressing judges, customers or suppliers at your next event!